VALUE ADDED SERVICES

Heat-Treating and
Surface Treatments
DFS/USA has excellent sources for competitive heat-treating, plating, coatings and surface treatments. We use these suppliers every day - and they have grown to handle our increased production.


A larger quantity stainless steel order returns from heat-treat and passivation.

Quality Assurance and ISO 9001:2000
We take our QA Program very seriously. Since customer satisfaction is our focus, we have extensive employee training for conducting our own in-house internal audits. We also contract an outside auditing firm for quarterly inspections of our own records. If you have your own audit team, they are always welcome to visit.


Special Inspection and Packaging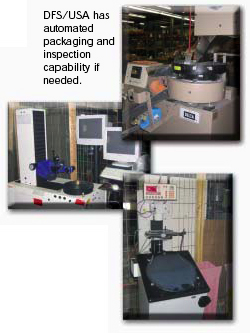 We are certified ISO 9001:2000 and routinely conduct special parts inspections for our customers. Many jobs require this - and we have the trained personel.
Lot numbers assigned and recorded for all aspects of production for follow-up and accountability
Parts check during production by qualified QA personeel
Data Sheets for steel certification
Quality Assurance Team on site
Traceability records kept on file for 7 years
Additional inspections performed during packaging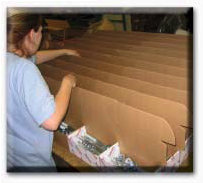 All product is "100% inspected" to insure each order is packed and shipped to meet your requirement.